Ok, so I'm not sure if this has been mentioned, but there are spots on my map that always show up as AlCapone squares until I go to spy on it, and it says it belongs to me already. Then, when I go into the defense menu, it shows that I have -1 men on that spot. If I put men on the spot, at some point it does the same thing again. So I have lost a lot of men, because this is a long line of squares that do this. I have a shot of the lines that are unclaimed (sorry for rally filter) but I will try to screen shot it showing that I have that area, and that it has -1 men on it the next time I'm in that area. (on iPhone 5c)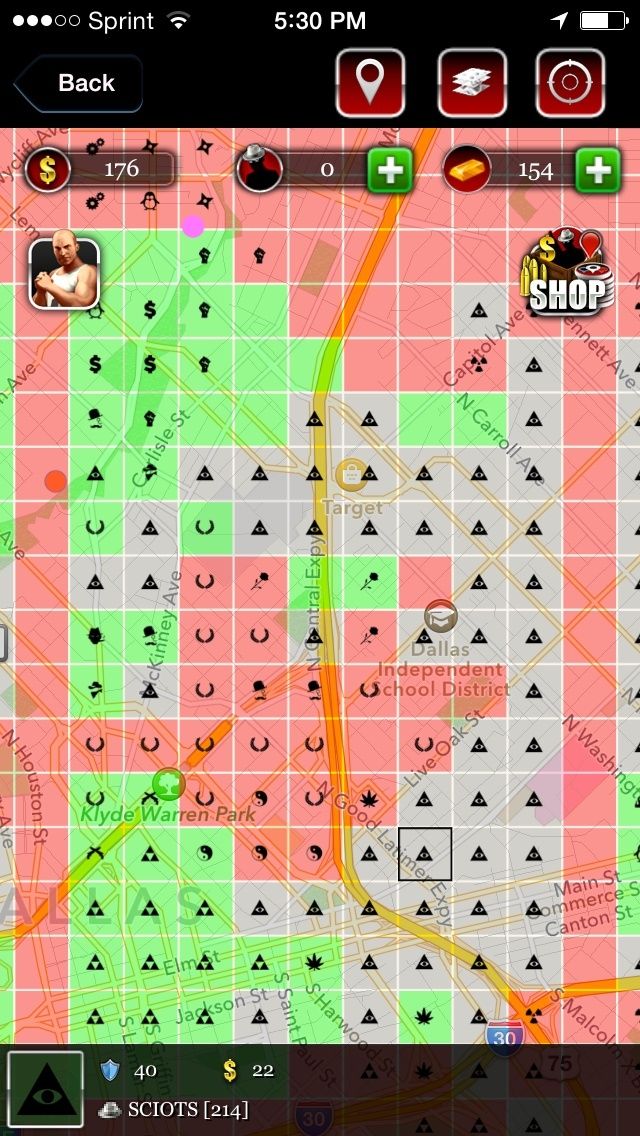 Nicorr - here is a step by step of what my map bug is -
Here are a few screenshots of the gaps in the map. It seems like I get 9 good squares, and then a vertical row of dead spots. These gray lines are always in the same locations, too.
The gray squares say they are capon gang tiles, until you go to spy on them, and then it will either show you that someone else owns it and how many men are on the square, or you will get the "Ally Area - This area already belongs to you. A member of your gang must have taken it at the same time as you." error.
If you go to add defenses to it, it shows that you have -1 person in the area:
I did this to several of the squares in one of the vertical rows, and then looked at the "my gang" filter, and this is what it looks like:
Any men that I have put on in defense always disappear, as I've tried several times to figure out how to make sure the game knows those squares are taken, so it has become very frustrating for me, but until it's fixed, I just stay away from those squares, so it's not an urgent issue or anything, but I would definitely love to see it fixed.
Just FYI, updated the app today, and still having this issue.
sorry this problem is tricky and do not concern a huge number of players, so it have a low priority
Admin





Messages

: 1968


Date d'inscription

: 2012-12-10


Age

: 26


Localisation

: Paris




---
Permissions in this forum:
You
cannot
reply to topics in this forum